You live with lupus or lupus nephritis every day. But you may see your doctor only once every few months, and your time together is valuable.

Getting to know your doctors
If you have been diagnosed with lupus (systemic lupus erythematosus or SLE), you will probably go to see a rheumatologist. A rheumatologist is a doctor who has had special training in autoimmune or rheumatic conditions that often affect the joints, skin, muscles, and bones.
If you have been diagnosed with lupus nephritis (LN), you will probably be treated by a nephrologist in addition to a rheumatologist. A nephrologist is a doctor who specializes in diseases and conditions that affect the kidneys.
Make the Most of Your Time
Your time with your doctor is important. With appointments lasting about 15 minutes or less, being prepared will help you get the most out of your time.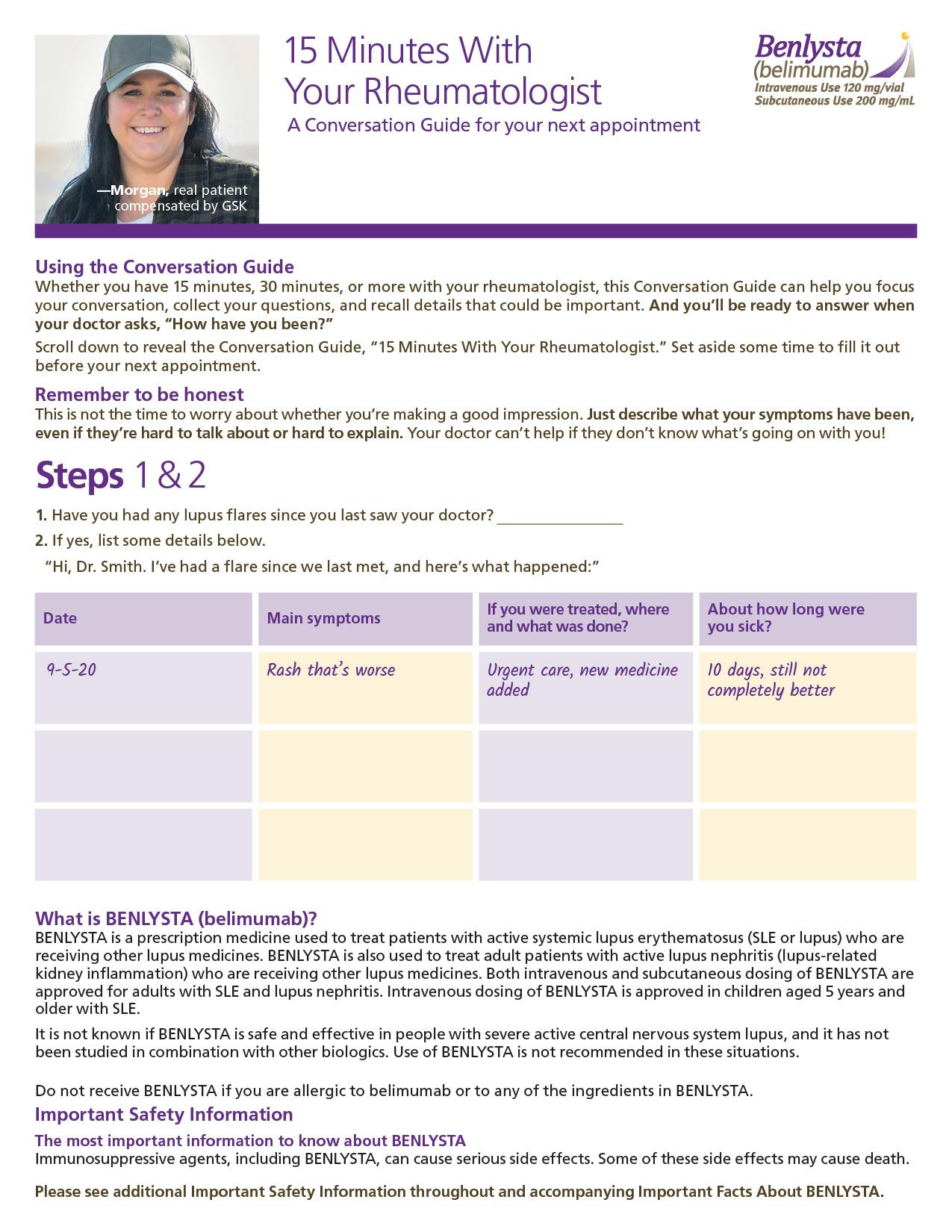 A conversation guide to help you focus your time with your rheumatologist, collect your questions, and recall details that could be important.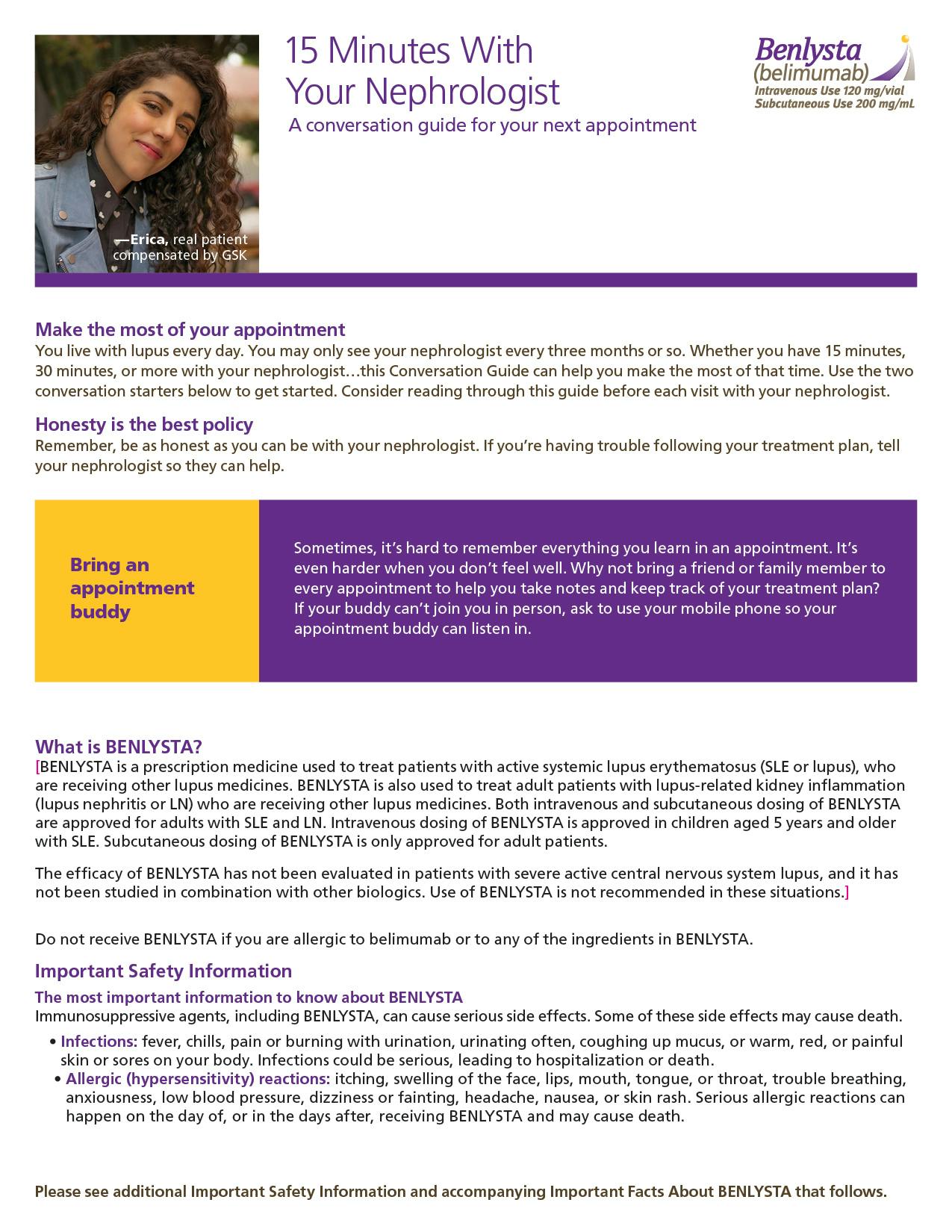 Use these conversation starters to help make the most of your time with your nephrologist, whether it's 15 minutes, 30 minutes, or more.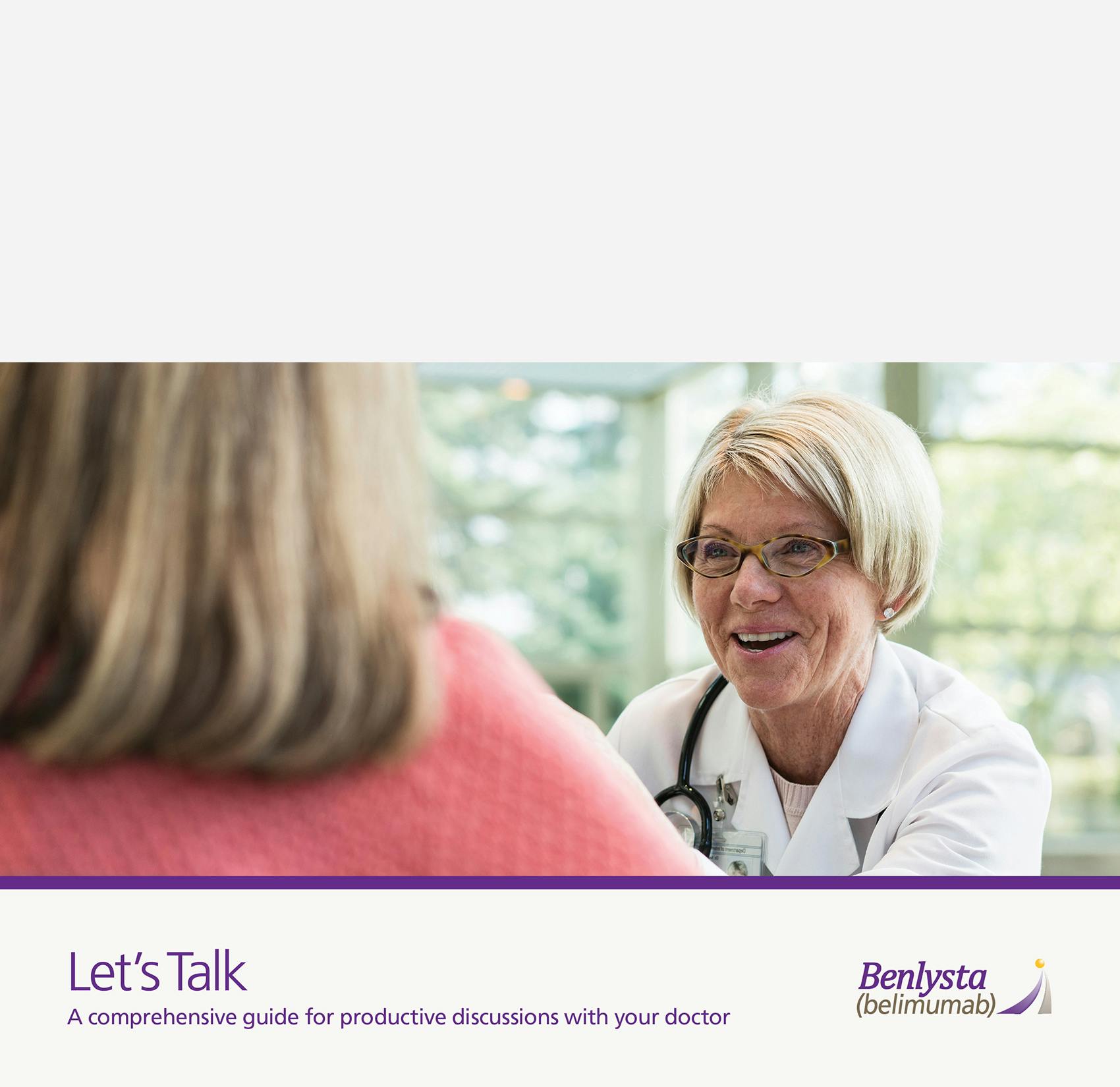 An extended guide to being proactive before, during and after appointments. Find preparation and checklist ideas to consider as you talk with your doctor.
Make the Most of Your Appointment
Below are a few strategies to help ensure that you are communicating all the important things about your health to your healthcare team, including doctors and nurses. Learn these tips and use them at your next appointment.
Strategies to Help You Make the Most of Your Doctor's Appointments
What?
Keep track of how you're feeling. Doing so can give your healthcare team a clear and accurate picture of what's going on with your health.
How?
Download the Patient Diary and use it to track how you are doing. Do this when you have a moment to talk to a loved one.

What?
Get an appointment buddy lined up.
Take a trusted friend or family member with you to appointments. They can act as both a supporter and a note-taker.

How?
Ask a trusted friend or family member to be your buddy well in advance of your next medical appointment, so that they can take time off if needed. Do this a few weeks before your medical appointment.
What?
Make sure you have all of your medical records with you. If you've visited another healthcare team or specialist since your last visit to this doctor, make sure you bring copies of any documents or notes with you. This goes for any visits to emergency or urgent care clinics, too.
Be ready to answer some questions your healthcare team may have for you.
How?
Prepare yourself for things your healthcare team might ask you by writing down your answers to the following common questions:
How have you been feeling physically?
How have you been feeling emotionally?
Has anything significant happened that I should know about?
Are there any new problems that I should be aware of? (Note: it's okay if you are not sure whether they are lupus-related.)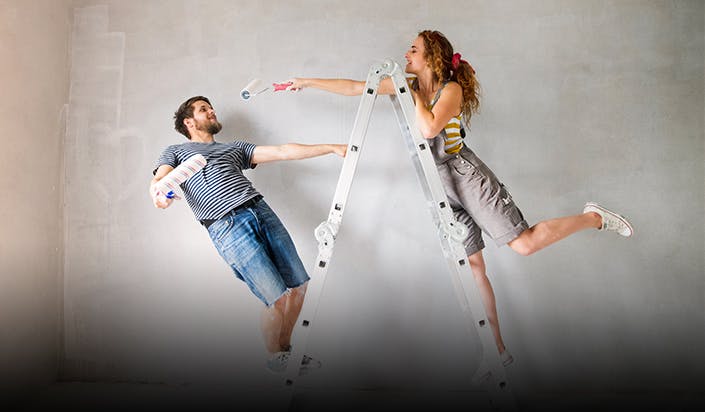 Working with your Healthcare Team
It's important to have a transparent relationship with your healthcare team. Learn tips from other patients taking BENLYSTA on how to have a successful relationship with your doctor.
Renee: The very first thing that you have to assess in determining what a good – whether or not you're going to have a good relationship with your physician, or your potential physician, is whether or not you can communicate with this person. Communication is key. Because if your doctor is not hearing you, then you can – you're not feeling like your needs are being addressed, and so that would – I would say number one is communication. The important thing when you kind of come for your infusion process, the doctor's appointment, is to, first of all, assess how you're feeling that day and during the time that it's been since you were last there. I would make a list of all the questions that I had so that when the doctor would come in and see me, I would make sure that I was covering everything… and in between appointments, again, because it's important to be able to call your doctor and speak to them, I will call the doctor – I try not to abuse the process, but I will call the doctor to let him know how I'm feeling or if something seems out of the ordinary. Because actually they really do want to know, and so you can either bring that information in or you can call ahead of time. But if you have a list and if you are conscious about how you're feeling and make sure that you want to go over those things with your doctor, that's the most important thing.
Lacy: It's just absolutely imperative that you be as up front and honest with your doctor about everything that's going on with you when you have lupus and you're going in for treatments. The only way that your doctor is going to be able to have a concise picture of your make up and your health and your current situation is if you are not omitting anything. So, you've got to be 100 percent transparent when you deal with your doctor and the staff and let them know where you're at. The thing that makes my relationship so strong with my rheumatologist is the fact that she listens to me. When I first got diagnosed with lupus, I had so many questions. In fact, I would make lists. I would go in with lists, so I didn't miss anything. She took so much time to make me understand anything that I might be unclear on, and over the course of time, that's really gone a long ways towards securing a strong relationship between the two of us. The one person on my healthcare team that means the most to me is my nurse. The nurse actually is the one who does the infusion for me when I go in each month. She is just fantastic. We have built a really strong and wonderful relationship and bond over the time that I've been going there. She takes extra time to answer any questions that I have, and she has just gone so out of her way to make me feel at ease with every aspect of getting my infusion.
Sheba: When I first met my doctor, I think he made me feel a certain confidence in his ability. He right away diagnosed me, first of all, you know, the official diagnosis, and he had a firm grasp on what I was experiencing and why, and what I should do and my prognosis. So, I think that I felt confident with him. Especially at first, I had a lot of questions about lupus and about BENLYSTA. I would actually come prepared with a paper with my questions listed on them and I had read literature about lupus and I had read a lupus book, and so I would write down the questions and make sure I didn't miss anything. So, I would come prepared, and I think that really got me on a good footing and I really got a good overall understanding of lupus. Now, I basically rely on him for everything that I need. I mean, I do communicate with everyone on the team. With my doctor in particular, I bring up any issues I've had since my last visit, or even in between visits, what I do is I email him any issues I may have had and I call him on the phone any time and speak to him about anything I might be experiencing – any symptoms, any concerns, and he addresses them.
Renee: One of the consequences of not being up front and open with your doctor is later having a feeling of frustration and having a feeling of regret that, "Geez, I wish I had gone ahead and said blah, blah, blah, and I wish I had been more open about that," and all of that frustration, all of those feelings of anxiety are so unnecessary if you just make your list or if you make it a point to talk about what is bothering you the most. It's so important to, again, communicate, to be open, to be honest, and to just say whatever it is that you're feeling because later on you don't want to be thinking, "Maybe I should have talked to him about it" because then it's causing more frustration and more anxiety.
Staying on Track
Taking BENLYSTA as prescribed can be key to seeing improvements in your lupus. Discover tips for staying on track with your treatment.
Make the Most of Your Lupus or Lupus Nephritis Treatment
Whether you're just getting started or you've been taking BENLYSTA for a while, BENLYSTA Cares offers resources created with you in mind. Sign up below to start receiving support from BENLYSTA Cares. BENLYSTA Cares has been carefully designed with real patient input to provide the support and resources needed to answer questions and help manage your treatment with BENLYSTA.
Sign up today to receive:
Information about your financial options, including the BENLYSTA Co-pay Program
Access to a BENLYSTA Nurse Ambassador*
Support with self-injection training

Instructions on how to receive your free sharps disposal container and BENLYSTA carrying case
A free subscription to Connections, a magazine filled with lifestyle content and tips for living with lupus
*Nurses from BENLYSTA Cares do not give medical advice, and will direct you to your healthcare provider for any disease-, treatment-, or referral-related questions.
Sign up now for tools and resources from BENLYSTA Cares.
Frequently Asked Questions
You can use our physician finder to find a doctor located close to you who has prior experience with BENLYSTA.

For more information on lupus or lupus nephritis and living with lupus or lupus nephritis, you can sign up for support from BENLYSTA Cares.
See the BENLYSTA experience from their perspective
Real BENLYSTA patients will share their experiences living with lupus and tips to starting BENLYSTA treatment.

Want to learn about lupus and BENLYSTA treatment?
Find support groups in the lupus or lupus nephritis community. Plus, we offer a variety of support materials about lupus that may help you find the information you need.