For some, the idea of self-injection can be overwhelming. There is another way to receive BENLYSTA. Learn about BENLYSTA for Intravenous Use (IV), infusions given by a healthcare professional.

BENLYSTA IV:
What You Need to Know
When you are administered BENLYSTA by your healthcare provider, you will be monitored before, during, and immediately after the infusion.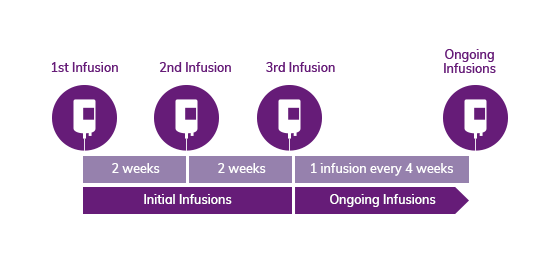 Where it happens
For BENLYSTA IV, your healthcare provider will discuss the most suitable place for you to receive your infusion.
You may receive your infusion at your doctor's office, a hospital, or an infusion center.
How long it takes
The infusion of BENLYSTA is given over approximately one hour.
Preparation time before and observation time after the infusion may vary.
How often it happens
Here is the recommended dosing schedule for BENLYSTA IV:
For the first three IV infusions, BENLYSTA is given every 2 weeks.
After that, BENLYSTA is given once every 4 weeks. See the accompanying diagram as an example.
It's important to continue to receive BENLYSTA as prescribed, even if you're feeling better. And if you're not feeling better right away, talk to your doctor about how BENLYSTA takes time to work in your body.

Talk to your doctor if you experience any side effects.
Before and After Your BENLYSTA Infusion
Before your infusion
Your healthcare provider will prepare you for your infusion of BENLYSTA. They will do this by asking questions about how you're feeling and your medical history, in addition to taking measurements, such as temperature, pulse rate, and blood pressure. Your healthcare provider may give you medication such as an antihistamine before you receive BENLYSTA to help reduce your chance of having an allergic reaction.
After your infusion
It is common to feel some discomfort where the IV line was inserted. This discomfort should go away within a few hours. You may also feel a little drowsy if you took an antihistamine and may want to go home and rest. For this reason, you may want to consider having someone drive you home from your infusion. Depending on how you feel, you may be able to return to your usual activities. Contact your healthcare provider if you don't feel well or have soreness or tenderness at the infusion site that does not go away.
The infusion experience

Learn from patients about starting BENLYSTA IV
Susan: Of course, I was a little apprehensive at my first infusion, but I had done my homework, so my biggest concern was if they'd be able to get my vein right away. Thankfully, they did.
Michelle: Before they start the infusion, they'll take your vitals and weight so they can calculate the right dosage just for you. Once they have the medicine ready, they will prep your arm and choose a vein. I know for me, the very first infusion, it was definitely a little nerve-wracking… The nurses walked me through everything, reassured me they were there, every step of the way. And I remember just looking up at that infusion bag and saying: "well this is it -- (PAUSE) I really hope this helps."
Susan: I think sitting in the chair, when I started to receive my infusion for the first time, I was just – I was actually hopeful. I just had this incredible sense of hope that this might be the drug that would help me.
Morgan: During my first BENLYSTA infusion, I was certainly nervous. I remember it being cold and quiet in the infusion clinic. My mother was there with me – she's always there helping me and coming along for the ride. Those poor nurses – I never stopped talking.
Michelle: The best thing is to think about this, as you know, an hour, an hour and a half of time, just for yourself. If you like to read, bring a book. If you're someone who likes to knit or do things like that, bring something that is, you know, something you can do on your time…this is about you.
Morgan: During my BENLYSTA infusions – it usually takes around an hour – and this time is usually spent for me. It's my time. It's my time to sit and reflect on things that are happening in my life. During my BENLYSTA infusions, I typically have snacks – of course, cuz you know, you sit there for long enough – and books to read. Obviously, I have – I like to chat. There's a lot of other patients around usually in the clinic, so I'm able to converse with them. And that helps to pass that time.
Important tips to remember
Preparing for your infusion
Your healthcare provider will take your vitals and weight to calculate the dosage.
Talk to your healthcare provider if you have questions about the infusion process.
After your infusion
You may be drowsy. Ensure somebody is there to drive you home.
You may have some mild discomfort where the IV line was inserted.
If you don't feel well or have soreness at the infusion site that doesn't disappear after a few hours, contact your healthcare provider.
Allergic (hypersensitivity) and infusion reactions
Serious reactions can happen on the day of — or in the days after — receiving BENLYSTA and may cause death.
Tell your healthcare provider right away if you have any of the following symptoms of a reaction: itching; swelling of the face, lips, mouth, tongue, or throat; trouble breathing; anxiousness; low blood pressure; dizziness or fainting; headache; nausea; or skin rash, redness, or swelling.
Tell your healthcare provider or get emergency medical help right away if you have any of these symptoms.
Questions or Concerns
It's normal to have questions or concerns regarding a new treatment. Be sure you ask your healthcare provider what to do if:
You miss your infusion appointment.
You are unsure how often you should receive BENLYSTA.
You think you feel better and want to discontinue your treatment, as it is important to continue to receive BENLYSTA as prescribed.
For more information on BENLYSTA IV, you can contact BENLYSTA Cares.
Call BENLYSTA Cares: 1-877-4-BENLYSTA (1-877-423-6597), 8 AM to 8 PM Eastern Time, Monday through Friday.
Experience BENLYSTA
Discover stories from those living with lupus and using BENLYSTA. Listen to people discuss starting BENLYSTA, working with their healthcare team, building support systems, and sharing their tips for those with lupus.
Frequently Asked Questions
Talk to your doctor. You should not make any changes in your medication regimen without first consulting with your doctor.

BENLYSTA is not a chemotherapy drug.
It is also not a steroid. BENLYSTA is a biologic therapy that contains belimumab, which is in a group of medicines called monoclonal antibodies. Lupus is a disease of the immune system (the body system that fights infection). When given together with other medicines for lupus, BENLYSTA may help reduce the abnormal immune system activity that contributes to disease activity in lupus.

You may be eligible for the program if:

You have a commercial medical or prescription insurance plan; or you are uninsured
You are a resident of the US (including the District of Columbia, Puerto Rico and the US Virgin Islands)

You are not eligible for the program if:

You have a state or federal government-funded medical or prescription insurance plan such as Medicare, Medicaid, VA, or TRICARE. Medicare-eligible patients who are enrolled in certain retiree drug benefit plans are also ineligible for the co-pay program. (Most patients become eligible for Medicare when they reach age 65)
You are enrolled in a commercial health plan that does not permit the use of co-pay assistance programs
Want to learn more about resources for BENLYSTA?
Whether you are just getting started with BENLYSTA infusion, or have been taking BENLYSTA for a while, BENLYSTA Cares offers support and ongoing resources throughout the course of your treatment.
Looking for BENLYSTA coverage assistance?
With BENLYSTA infusion treatment, you will also have access to assistance in understanding your health insurance coverage with BENLYSTA Gateway & Co-pay Savings Program.